Teachers in network join to spread global education at GEASA staff event
Teachers and staff from Czechia, Italy, Slovenia, and The Netherlands came together in the Julian Alps for a bright and sunny October week. Not to hike or enjoy Slovenian cuisine - although both were undertaken - but to explore how we can prepare the next generation for life in a complex and globalised world.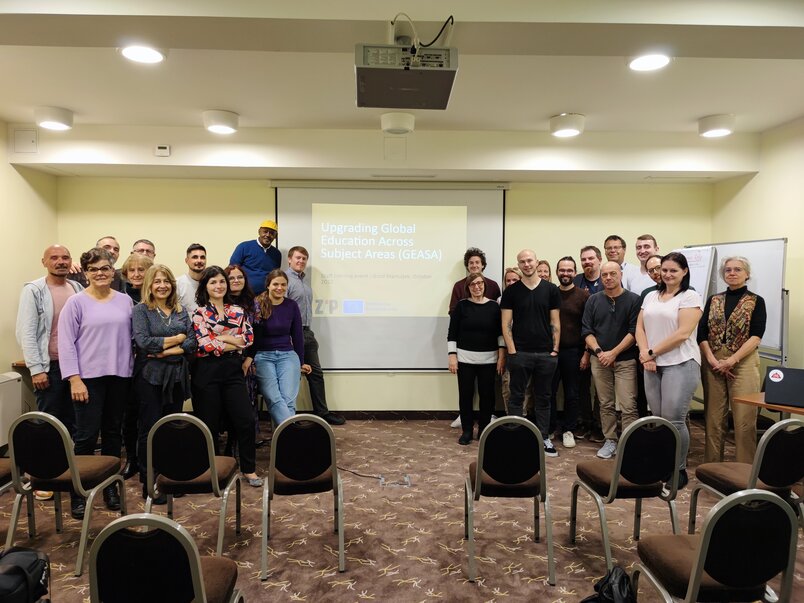 At this event we worked through various modules and ideas to help strengthen the capacity of teachers to work on global education. We removed each other's blindfolds and looked at a world that is interconnected and faces its challenges together. We built a framework through which students will be more motivated to learn and understand the world as it exists both around them as well as in the wider world.
The end result of this project will consist of four outputs, which have been tested at this event:
Training modules for teachers
The modules will function as a tool for continuous professional development, bridging the gap between the still very discipline-oriented teacher education and the transdisciplinary needs of today's students. The modules will emphasize 4 key approaches - the use of debate as a cross-curricular method, the necessity of adopting a transdisciplinary view, global education, and the use of digital tools in school education.
A methodological framework
We will develop a methodological framework for implementation of the pedagogical strategy and topics covered by this project. While our training modules represent a training framework for teachers, the methodological framework directs our focus to their classrooms. This will provide teachers with practical solutions, such as lesson plans and exercises, leading them through the process of implementing the developed pedagogical strategy in curricular subjects and activities, as well as extra-curricular ones.
A toolkit for teachers and students
This result is intended as a toolkit for teachers and students containing case analyses of contemporary issues having to do with the 5 focal topics of this project - Globalization, wealth, and poverty; Sustainability and climate; Global health; Identity, culture, religion, and border crossings; Noise, News and neutrality). The toolkit will highlight and illustrate the interconnections between these areas and emphasize the necessity of transdisciplinary thinking about global issues.
A digital learning environment
In order for project-developed content to be readily available and maximally inclusive, we will create an e-learning platform making our content into a flowing e-learning tool with specific individualized learning plans for users.
Through GEASA, we are aiming to support teachers and other educators in tackling difficult contemporary questions - something that's on schedule at every debate club meeting, but often lacking in classrooms. The materials we are developing focus on five key areas:

1. Globalization, wealth, and poverty;
2. Sustainability and climate;
3. Global health;
4. Identity, culture, religion, and border crossings;
5. Noise, news, and neutrality.
This project has been made possible through a grant provided by the Erasmus+ Programme of the European Union.
One-time donation
IDEA supports young people in becoming critical thinkers and active citizens.
You can help.
Donate Now